Voice Monitoring & Analytics
Manage performance across your voice deployments, including Cisco Unified Communications Manager and Jabber, Microsoft Teams and Skype for Business, RingCentral, and more.
Supporting a voice network with high volumes of calls and complex system configurations and call paths can be challenging for IT teams. Vyopta simplifies how you manage performance across your collaboration environment, enabling your teams to be efficient and proactive.
One source of truth across vendors and collaboration modes.
Identify, troubleshoot and resolve issues rapidly and proactively.
Insights to optimize spend and ensure successful tech refreshes.
Monitor Trunks Within Your Network and To Your PSTN Provider
Vyopta's CPM suite is the only solution that allows you to monitor your Sessions Border Controllers (SBCs) and the SIP trunks that connect to your call control as well as to your SIP trunking and PSTN Service Provider, along with your entire UC environment. With support for Cisco Unified Border Element (CUBE), troubleshooting voice issues is proactive, comprehensive, and accurate. Monitor SIP trunk status and traffic and accelerate your migration away from PRI. Get alerted immediately on quality issues, and identify problematic SIP and PRI trunks.
Save Hours of Troubleshooting Time with Intelligent CDRs And CMRs
When a quality or disconnect issue is reported, it can take a lot of steps to locate and retrieve CDRs, and then again to dig through them to find relevant information.
With Vyopta, teams save significant amounts of time in locating pertinent information in Call Detail Records and Call Meeting Records. Within minutes of a call ending, CDR data is accessible through Vyopta's CPM platform. Vyopta presents CDR data in a way that is easy to interpret and consume by parsing the data into tables, and by highlighting status and error codes. You can easily search and filter information within the CDRs, see what error codes mean, and even see views with multiple CDRs to understand call flows across multiple devices.
Vyopta reports on phone status, indicating registered versus unregistered phones. Additionally, with our custom alerts feature, users create notifications when phones or groups of phones become unregistered allowing for keen observation. Having insight to this information across your organization allows for full understanding of phone availability by site, geographic location, and departments.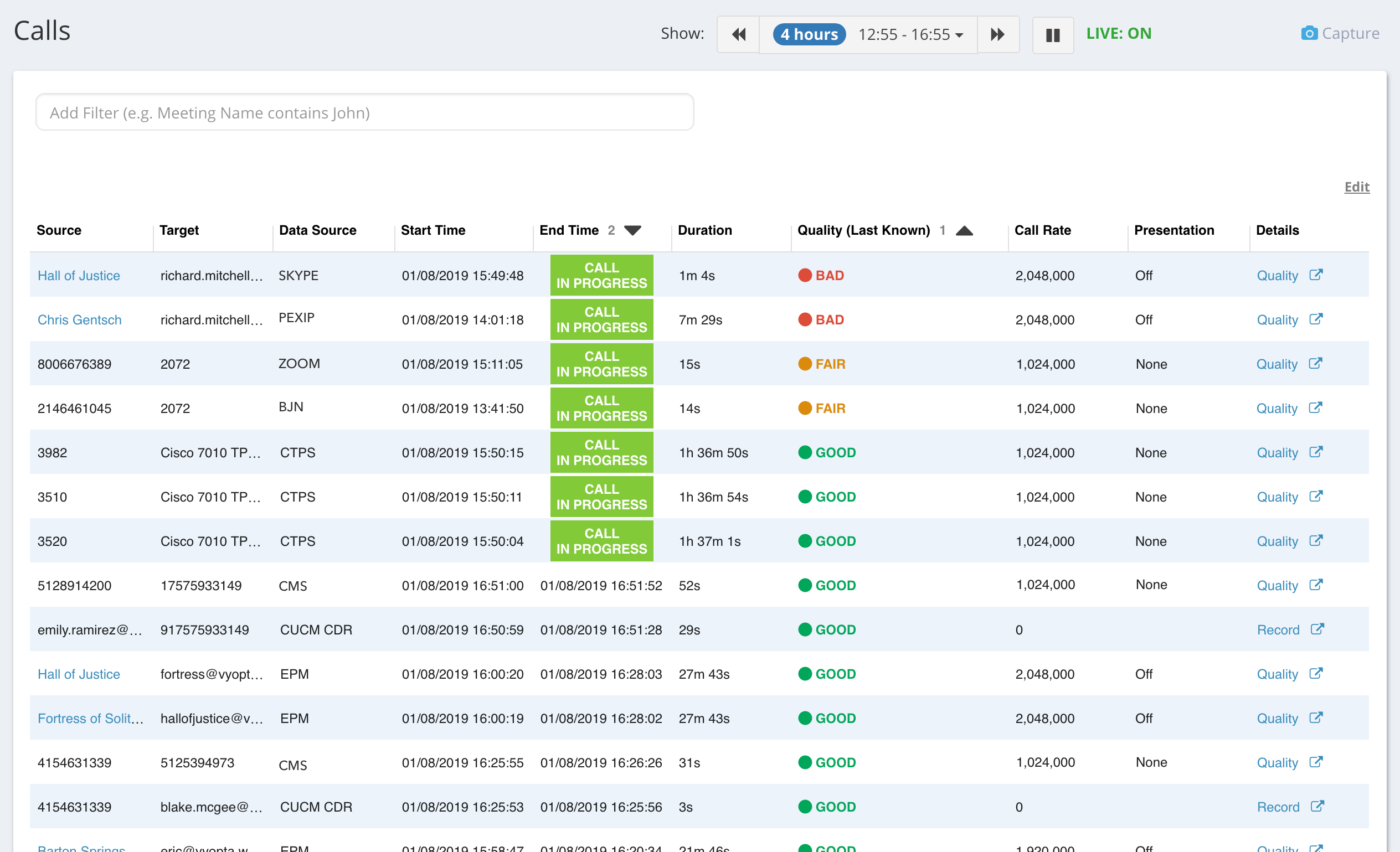 See All Voice and Video Call Legs in One Place
With Vyopta, you can easily see all of your call legs and meetings in one place, easily access associated quality information and disconnect reasons.
As more and more teams managing voice are also managing other elements of enterprise collaboration, including video, having all types of calls and meetings available in one user interface can streamline performance management. Gauging overall health across your collaboration environment is now a simple task.
Rewind the Clock To Investigate Past Calls
With a large volume of voice calls, and issues often being reported by users after the fact, it can be imperative to access quality data and metrics after a call has already ended. With Vyopta's CPM Monitoring®, you can see data for recent voice calls alongside real-time data for other collaboration modes. Use the time window filter to find any call legs that were active during select timeframes, going back in time up to a week or even longer.
Usage and Adoption Analytics
In addition to providing real time and after the fact metrics on voice calls, Vyopta analytics can also provide deep insights on capacity, usage, and adoption of voice specific environments. Just use our dashboards to set up the voice metrics you would to visualize and then compare week to week, month to month, and more, along with sending out automated reports on specific data sets.
Some of the many metrics you can see for voice: